This post was originally published on this site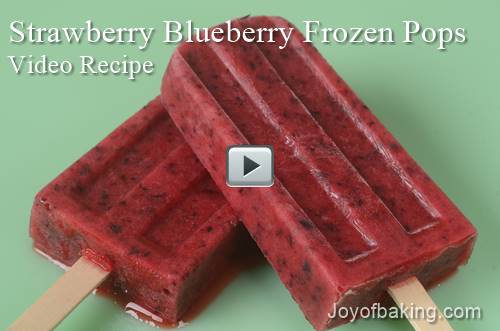 Help us get to 1 million subscribers on YouTube! Today we are at 979,000! If you aren't a subscriber already be sure to subscribe here:
Summers are very long and very hot where I live. Since my air conditioner is running almost constantly, I try to use my oven as little as possible. That means, instead of baking cakes to satisfy my sweet tooth, I make a lot of icy cold frozen fruit pops. They are so flavorful and wonderfully satisfying. Easy to make, you simply combine fresh strawberries and blueberries, with a sugar syrup and a fruit yogurt.
These frozen fruit pops use a sugar syrup, often referred to as a simple syrup. It is a combination of sugar and water that is heated until the sugar has dissolved. While sugar syrups can be made using different proportions of sugar and water, for this recipe we are using equal weights. You can make the sugar syrup ahead of time as it can be stored in the refrigerator for up to two weeks.
These Frozen Pops are so easy to make. Just process the strawberries and blueberries in your food processor and then add the sugar syrup and yogurt. You can use any flavor of yogurt, but I am partial to either blueberry or strawberry. You can also add one tablespoon of Limencello or Prosecco (Sparkling Wine) for added flavor if you like.
Click here for the video and recipe.
More Recipes at Joyofbaking.com
Article and Demonstration by Stephanie Jaworski
Photo and Videography by Rick Jaworski
© 2018 iFood Media LLC