This post was originally published on this site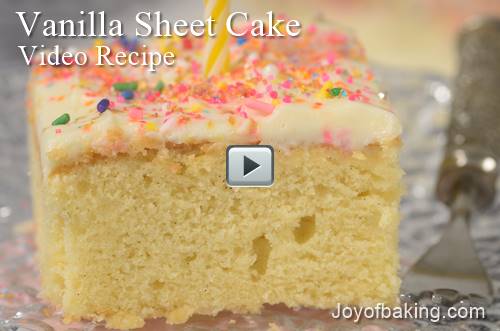 Help us get to 1 million subscribers on YouTube! Today we are at 968,000! If you aren't a subscriber already be sure to subscribe here:
You'll love this moist and dense Vanilla flavored Butter Cake. While you can cover it with a variety of frostings, one of my favorites is this delicious Cream Cheese Frosting with its light and fluffy texture and sweet yet tangy flavor. Depending on the occasion, garnish the top of the cake with candy sprinkles, birthday candles, fresh berries, or even fresh flowers.
This Vanilla Cake is what is commonly referred to as a 1-2-3-4 Cake. Popular since the 19th century it is an easy cake to remember. The numbers 1-2-3-4 refer to the quantities of ingredients; 1 cup butter, 2 cups sugar, 3 cups flour, and 4 eggs. I have cut back a little on the amount of sugar, but otherwise the formula is almost the same. This cake is made using the 'creaming' method where the butter and sugar are beaten together first and then the eggs, followed by the flour and milk are added.
While you can frost the cake immediately after it has been baked and cooled, I like to chill the cake until it's firm (at least a few hours or even overnight). I do this because a freshly baked cake is quite fragile and when you try to spread the frosting there is a tendency for the cake to tear. The extra step of chilling until firm makes the spreading of the frosting so much easier.
Click here for the video and recipe.
More Recipes at Joyofbaking.com
Article and Demonstration by Stephanie Jaworski
Photo and Videography by Rick Jaworski
© 2018 iFood Media LLC