This post was originally published on this site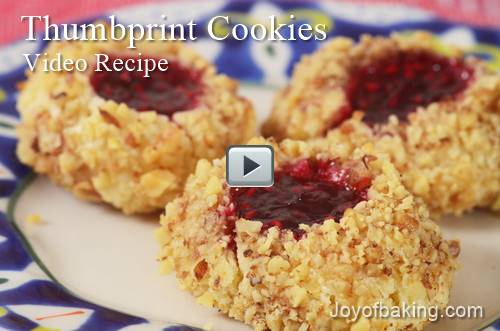 Thumbprint Cookies are a very popular holiday cookie. They are made with an enriched shortbread dough that is formed into balls and then rolled in finely chopped nuts or dried coconut. The name 'thumbprint' comes from the fact that you use your "thumb" to make an indentation into each ball of dough. The indentation is then filled with your favorite jam.
Once the Thumbprint Cookie batter is made, if it is too soft to roll into balls, cover and refrigerate until firm. This can take anywhere from 30 to 60 minutes. Then form the dough into round balls. Next, each ball of cookie dough is rolled first in a beaten egg white and then in finely chopped nuts. The egg white acts like a glue so that the nuts will adhere to the cookie batter. You can use a variety of nuts; walnuts (my favorite), or pecans, hazelnuts, or almonds. I also like to first toast the nuts as it brings out their flavor. The last step is to make an indentation, using your thumb or the end of a wooden spoon, into the center of each cookie. Fill the indentation with about 1/2 teaspoon of your favorite jam. Now, some recipes do call for filling the centers of the cookies with jam after they are baked. This is best if you want to store the cookies for more than a few days because the jam does soften the cookies over time.
Although I have filled the cookies with raspberry jam, feel free to use any flavor of jam. I do like to use a sweet yet tart flavored jam (like raspberry), as it offsets the richness of the cookie. If you decide to use preserves, just make sure to strain the preserves first to remove any large pieces of fruit. (Note: Jam and preserves are similar in that they are both a cooked combination of fruit and sugar (and sometimes pectin). The difference being that preserves still contain chunks of fruit, whereas jam is more like a smooth fruit puree.)
Click here for the video and recipe.
More Recipes at Joyofbaking.com
Article and Demonstration by Stephanie Jaworski
Photo and Videography by Rick Jaworski
© 2018 iFood Media LLC