This post was originally published on this site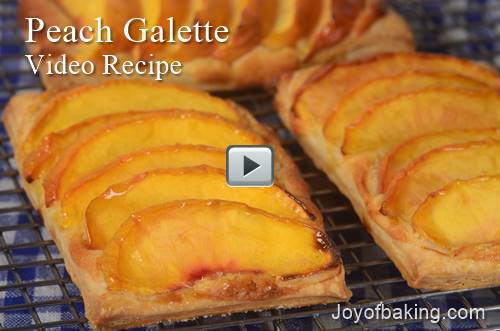 Help us get to 1 million subscribers on YouTube! Today we are at 986,000! If you aren't a subscriber already be sure to subscribe here:
Peach Galettes look as good as they taste. And they are a great way to showcase fresh peaches at their prime. Each individual galette is made with a small rectangle of puff pastry that is covered with a thin layer of sweet almond cream (frangipane) and slices of peaches. I like to brush the tops of the freshly baked galettes with an apricot glaze which adds a nice shine and also prevents the peaches from drying out. Enjoy these galettes warm from the oven when the puff pastry is wonderfully crisp, or at room temperature, or even cold.
You can use frozen commercially made puff pastry to make these Peach Galettes. You do need to thaw the puff pastry (as per manufacturer's directions). However, I like to make these Galettes with homemade Blitz Puff Pastry. The Blitz Puff Pastry (also known as Quick or Rough Puff) can be made in advance and frozen. Just thaw the pastry overnight in the refrigerator before using.
The filling for these galettes is a delicately flavored Almond Cream called Frangipane. This cream is made with sugar, butter, eggs, and ground almonds. You can buy ground almonds or you can make your own by taking 1/2 cup (60 grams) of blanched whole almonds (along with the flour in the recipe) and process in your food processor until finely ground.
We are using fresh peaches for these galettes. Normally I don't peel the peaches. But if you want to peel the peaches, this can be done by dipping the peaches into boiling water for about 30 – 60 seconds, or until the skins start to separate from the peach flesh. Then transfer the peaches to a large bowl of ice water (this stops the cooking process) before peeling.
Click here for the video and recipe.
More Recipes at Joyofbaking.com
Article and Demonstration by Stephanie Jaworski
Photo and Videography by Rick Jaworski
© 2018 iFood Media LLC