This post was originally published on this site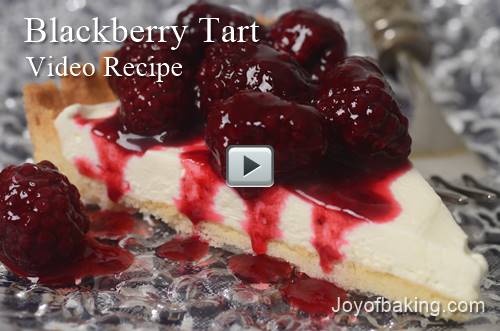 Help us get to 1 million subscribers on YouTube! Today we are at 976,000! If you aren't a subscriber already be sure to subscribe here:
I like fruit tarts. I like the combination of a pastry crust, a creamy filling, and juicy sweet fruit. This fruit tart offers all that and it's really easy to make. It starts with a buttery crisp shortbread crust that we fill with a delicious no bake cheesecake-like filling. For the fruit topping, juicy sweet blackberries are gently cooked with a little jam, just until they start to soften and release their wonderful juices.
This fruit tart begins with a pre-baked shortbread pastry that is sweet, buttery, and crisp. While the classic filling for fruit tarts may be pastry cream, for this tart I decided to use a No Bake Filling. All you do is beat mascarpone cheese with heavy whipping cream, sugar, and vanilla extract. It is delicious, with its velvety smooth and creamy texture.
For those who are unfamiliar with Mascarpone cheese it is a soft un-ripened cheese that belongs to the cream cheese family. It comes from Switzerland and Italy and is a thick, buttery-rich, sweet and velvety, ivory-colored cheese produced from cow's milk that has the texture of sour cream. It is usually sold in eight ounce (225 gram) containers and can be found in specialty food stores and in the deli section of some grocery stores. However, you can substitute the Mascarpone cheese with an equal amount of regular full fat cream cheese.
Click here for the video and recipe.
More Recipes at Joyofbaking.com
Article and Demonstration by Stephanie Jaworski
Photo and Videography by Rick Jaworski
© 2018 iFood Media LLC