This post was originally published on this site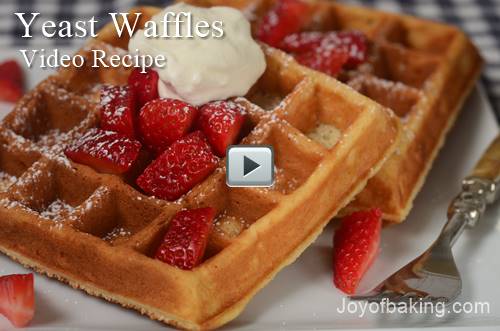 Help us get to 1 million subscribers on YouTube! Today we are at 983,000! If you aren't a subscriber already be sure to subscribe here:
In North America we tend to make our Waffles using an artifical leavener, that is, with baking powder and/or baking soda. But there is another way, and that is to make Waffles using yeast. This type of Waffle has a mild "yeast" flavor. Their outside crust is wonderfully brown and crisp, yet inside they are light and fluffy. Besides loving their flavor and texture, I also love how you make the batter the night before, which entails just stirring all the ingredients together, and then just letting it sit in the refrigerator overnight. So next morning, all you need to do is heat your waffle iron and cook the Waffles. Perfect when you're having overnight guests or for busy weekday mornings.
Waffles can be made in different shapes and sizes, from round, to square, to rectangular, to even heart shaped. But what they all have in common is that unique honeycomb surface which comes from cooking the batter in a special "waffle" machine (iron).
For Yeast Waffles I like to use a "Belgian" waffle machine which has a large grid pattern and deep indentations. Perfect for holding butter and/or maple syrup, honey, or jam. When buying a waffle machine (iron), you have so many choices. Waffle machines consist of two metal grids, facing each other, that are held together with hinges. If possible buy one with a non stick surface as it prevents the waffles from sticking and also makes clean up a breeze. Always preheat your waffle machine. If there isn't a "ready" light then test to see if it's hot enough by sprinkling a few droplets of water onto the hot surface and the water should bounce and sizzle and then evaporate. Most of the time it's a good idea to grease or spray the grids with a non stick vegetable spray (depending on manufacturer's instructions). Then pour enough batter into the center of the iron to cover the grids, smoothing out the batter with a heatproof spatula or with the back of a spoon. Close the second metal grid over the batter and cook the waffle (usually about 5 to 7 minutes) until crisp and golden brown. As the waffles cook you will notice a lot of steam escaping from the sides of your waffle machine, and this is normal.
Click here for the video and recipe.
More Recipes at Joyofbaking.com
Article and Demonstration by Stephanie Jaworski
Photo and Videography by Rick Jaworski
© 2018 iFood Media LLC