This post was originally published on this site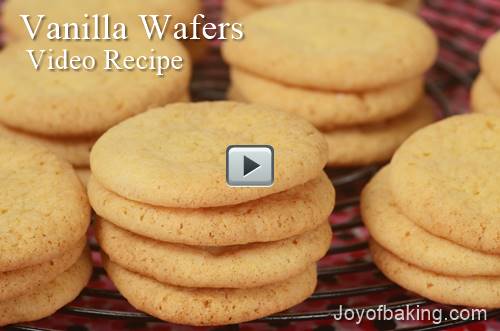 Help us get to 1 million subscribers on YouTube! Today we are at 962,000! If you aren't a subscriber already be sure to subscribe here:
Homemade Vanilla Wafers may look like the commercially made cookies, but they taste better. I think you'll enjoy this tender crisp cookie with its buttery sweet vanilla flavor. I like to make them fairly small. Perfect on their own, or I like to serve them alongside a fruit salad or a bowl of ice cream. And don't forget to try using them the next time you make a Banana Pudding.
A few notes on ingredients. For the vanilla extract, make sure you buy "pure" vanilla extract, not the ones labeled "imitation" as they tend to leave a bitter aftertaste. Another idea is to use pure vanilla bean paste which is a thick vanilla extract with the vanilla bean seeds. I also used a combination of All Purpose (plain) flour and cake flour in this cookie batter. Cake flour is a low gluten flour that helps give the cookies a light and tender crumb. However, you could replace the cake flour with an equal amount of All Purpose Flour. And lastly, I added a little baking soda (bicarbonate of soda) to the batter as it gives the cookies their crisp edges.
Click here for the video and recipe.
More Recipes at Joyofbaking.com
Article and Demonstration by Stephanie Jaworski
Photo and Videography by Rick Jaworski
© 2018 iFood Media LLC