This post was originally published on this site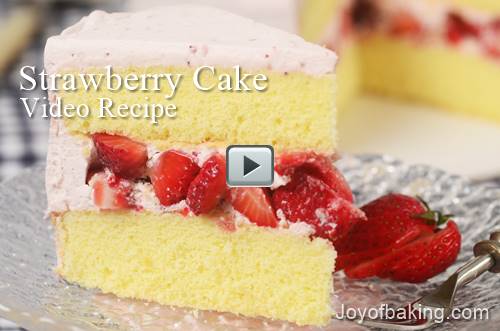 Help us get to 1 million subscribers on YouTube! Today we are at 989,000! If you aren't a subscriber already be sure to subscribe here:
I love going to bakeries. Not only for the pastries, but I also like to see what's trending. On a recent trip, one cake that stood out was this Strawberry Cake, often called a Strawberry Gateau. It looked so elegant. So I just had to make it. This cake starts with two delicious layers of a Vanilla Genoise that are soaked with a sugar syrup. Then it is filled with cream and fresh strawberries. The cake is frosted with a smooth coating of a stabilized whipped cream that contains pretty red flecks of strawberries. This cake is like a sophisticated version of a Strawberry Shortcake.
While this dessert has several components, you can make some parts ahead of time. First, the strawberry sauce, used in the whipped cream, can be made and refrigerated up to a week as can the sugar syrup. The Genoise Cake can also be made in advance and either refrigerated for a few days or it can be frozen for up to one month. Simply defrost the cakes in the refrigerator overnight and then bring to room temperature.
While the technique for making a Genoise batter is similar to that of any sponge cake, it does differ in that the eggs are not separated. It is, however, like other sponge cakes in that it is leavened solely by the air beaten into the egg and sugar mixture. To make a light and airy Genoise we first warm the eggs and sugar over a water bath, which melts the sugar so that the eggs will reach their full volume when beaten. The eggs and sugar are beaten until thick, and you will notice that the batter will become lighter and paler in color as it thickens. The other difference between a regular sponge cake and a Genoise is that we add warm melted butter which makes the Genoise light and tender with fine grain. The melted butter needs to be warm, however, so it does not solidify once it is added to the cake batter, causing streaks, or worse yet, causing the batter to deflate.
Click here for the video and recipe.
More Recipes at Joyofbaking.com
Article and Demonstration by Stephanie Jaworski
Photo and Videography by Rick Jaworski
© 2018 iFood Media LLC