This post was originally published on this site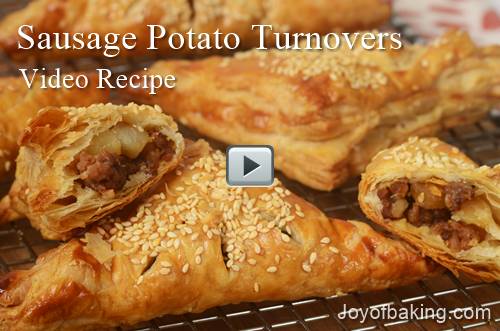 Once you master the technique of making homemade Puff Pastry, there are so many sweet and savory things you can prepare. One delicious idea is these Sausage and Potato Turnovers. They are made with triangles of puff pastry that are wrapped around a savory filling of spicy Italian sausage, small chunks of potato, and onions. You can serve these any time of the day, for breakfast, lunch, or even supper.
For this recipe I used the homemade Blitz Puff Pastry (also known as Quick Puff Pastry or Rough Puff) recipe on the site. I find it easier to make then the classic (traditional) puff pastry. But if you want, you can use the frozen, store bought puff pastry that comes in a 17 ounce (480 gram) box containing two sheets of frozen puff. Simply defrost the puff pastry overnight in the refrigerator.
The filling is easy to make. You can use either a mild or hot Italian sausage. For the potatoes I normally use either Russet or Yukon Gold.
If you're using Homemade Puff Pastry you can freeze the unbaked Turnovers. Once assembled, place the unbaked Turnovers on a parchment paper lined baking sheet in a single layer. Freeze. Then place the turnovers in an airtight container or freezer bag. You can bake the Turnovers frozen, they will just take a few minutes longer to bake.
Click here for the video and recipe.
More Recipes at Joyofbaking.com
Article and Demonstration by Stephanie Jaworski
Photo and Videography by Rick Jaworski
© 2018 iFood Media LLC