This post was originally published on this site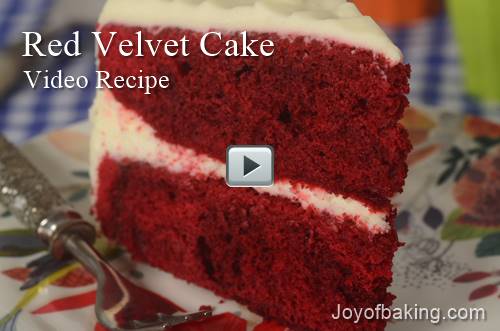 By the time you get this we most likely will have reached 1 million subscribers on YouTube! If you aren't a subscriber already be sure to subscribe here:
A Red Velvet Cake is instantly recognizable with its bright red color offset by a white Cream Cheese Frosting. There are many theories as to its origin. Some say it originated in the South, others say it originated in the North. All we really know for sure is that it has been a favorite for decades.
If you look beyond the striking appearance of a Red Velvet Cake, you will find that it has a very mild chocolate flavor (it contains just 2 tablespoons (15 grams) of unsweetened cocoa powder. Buttermilk gives this cake its wonderfully moist and tender crumb. Buttermilk has a thick creamy texture with a rich tangy and buttery taste. You can make a good substitute for commercial buttermilk by adding 1 tablespoon of white distilled vinegar, cider vinegar, or lemon juice to 1 cup (240 ml) of milk and letting this mixture sit at room temperature about 10 minutes before using.
Once the Red Velvet Cake has been baked and cooled, I like to chill the layers in the refrigerator until firm before filling and frosting the cake. This extra step makes the spreading of the frosting a much easier task, as a freshly baked cake is quite fragile and when you try to spread the frosting there is a tendency for the cake to tear. Refrigerating the cake first eliminates this problem.
I love to frost a Red Velvet Cake with a Cream Cheese Frosting. But the Cream Cheese Frosting I use is a little different than most. What makes it different is that besides cream cheese, it also contains mascarpone cheese and whipped cream. This makes the frosting deliciously rich and creamy. Now, Mascarpone cheese is an Italian cheese that is thick, buttery-rich, delicately sweet and velvety. It is often sold in plastic 8-ounce (227 grams) tubs. You may find it in specialty food stores or in the deli section of your local grocery store. If you cannot find Mascarpone just substitute with 8 ounces (227 grams) of cream cheese. This frosting recipe is adapted from 'The Waldorf-Astoria Cookbook' by John Doherty.
Click here for the video and recipe.
More Recipes at Joyofbaking.com
Article and Demonstration by Stephanie Jaworski
Photo and Videography by Rick Jaworski
© 2018 iFood Media LLC