This post was originally published on this site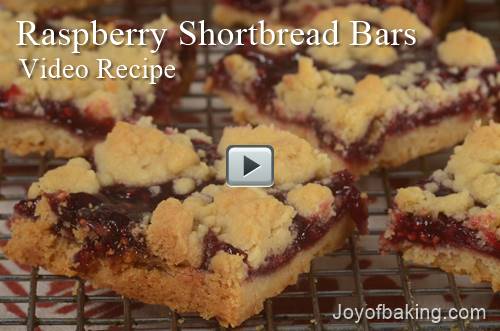 A shortbread batter is so versatile. Sometimes it's pressed into a tart or cake pan or used to make cut out cookies. Other times it's rolled into a log and used to make slice and bake cookies. But for this recipe we are making delicious Raspberry Shortbread Bars. Just think, two buttery layers of sweet shortbread sandwiched together with a tart and tangy raspberry jam. A match made in heaven.
For these shortbread bars I like to prebake the bottom layer of shortbread. That way the bottom crust stays wonderfully crisp. Then, after spreading the raspberry jam over the baked crust, I like to scatter clumps of the batter over the jam, instead of having a solid layer of shortbread. I do this because I think it looks quite appealing, but also so you can easily see that there is a layer of raspberry jam underneath.
For the jam, you can use either a good quality store bought raspberry jam (or preserve), or you can make your own. I have a quick and easy recipe, with a video, on how to make your own refrigerator raspberry jam. I like to make the jam at least the day before I make these shortbread bars as I think the flavor improves overnight. And really, you could replace the raspberry jam with another flavor of jam or you could even mix some apricot jam (preserves) into the raspberry jam to make Raspberry Apricot Shortbread Bars.
Click here for the video and recipe.
More Recipes at Joyofbaking.com
Article and Demonstration by Stephanie Jaworski
Photo and Videography by Rick Jaworski
© 2018 iFood Media LLC