This post was originally published on this site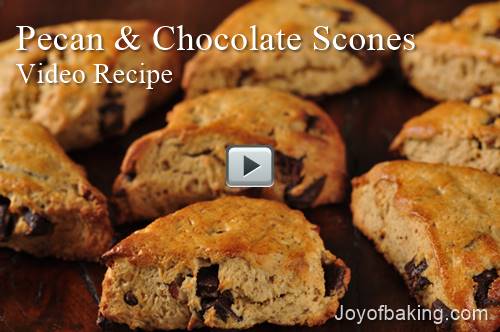 This recipe is for a Scone with a light and spongy, almost bread like texture. What makes these Scones extra special is that we add a little pure maple syrup to the batter which gives a sweet nutty flavor to the Scones. It also pairs so well with the dark chocolate chips and chopped pecans.
Maple syrup is a reddish-brown aromatic liquid that has a distinctive rich sweet nutty flavor. It is produced from the sap of maple trees grown in Canada and the Northeast United States. In early spring (called 'sugar season') when the nights are still cold but the days are warm enough that the sap begins to run, a small hole is made in the maple tree and a spout is then driven in from where a bucket is hung to collect the sap. Once collected, the sap is boiled down until most of the water has evaporated and the sap has become thick and syrupy. The whole process is very labor intensive and it takes anywhere from 20, and up to 50, gallons of sap to produce one gallon of maple syrup. The syrup is graded by its color and flavor i.e. the darker the color, the stronger the flavor.
Another ingredient used in these scones is buttermilk. Buttermilk has a thick and creamy texture with a rich tangy buttery taste that gives scones a bread-like texture. Buttermilk is now commercially made by adding a bacteria to whole, skim, or low fat milk. You can make a good substitute by stirring 1 tablespoon of white distilled vinegar, cider vinegar, or lemon juice into 1 cup (240 ml/grams) of milk. Let stand at room temperature about 10 minutes before using.
Click here for the video and recipe.
More Recipes at Joyofbaking.com
Article and Demonstration by Stephanie Jaworski
Photo and Videography by Rick Jaworski
© 2018 iFood Media LLC