This post was originally published on this site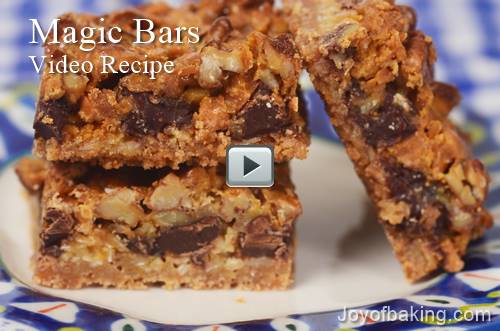 Magic Bars are also known as Hello Dollys, Coconut Dream Bars, and either a Six or a Seven Layer Bar. This bar is easy to make. It starts with a Graham Cracker Crust followed by a layer of flaked or shredded, sweetened or unsweetened dried coconut, chocolate chips, chopped nuts, and then sweetened condensed milk is poured over the top. (To make a Seven Layer Bar you add a layer of butterscotch chips.) I guess the "magic" comes in the fact that layers of ingredients, with no mixing, can almost "magically" turn into a cohesive bar. While I must admit they are not much to look at, they are deliciously sweet and gooey with wonderfully crisp edges. Magic Bars taste even better after a day or two in the refrigerator. This is a great recipe to add to your Christmas baking repertoire or to keep them in mind for the next time you need to make something for a bake sale or potluck supper.
Sweetened condensed milk is what binds all the dry ingredients together in these Magic Bars. It is made from a mixture of whole milk and sugar that has had about 60 percent of its water removed. Its consistency is thick and sticky (like honey) and it is very sweet tasting. It is most often used in baked goods and it takes on a lovely caramel flavor and color when baked. To give you a small bit of history, Condensed Milk was the result of Gail Borden's (1801-1874) determination to invent a milk that could be stored and distributed over long distances. At the time of its invention (1856) milk was not pasteurized so it was difficult to keep it fresh and free of germs. After Borden received a patent on his invention he starting producing condensed milk, but it wasn't until it became standard issue for the troops during the Civil War that it really gained popularity.
Click here for the video and recipe.
More Recipes at Joyofbaking.com
Article and Demonstration by Stephanie Jaworski
Photo and Videography by Rick Jaworski
© 2018 iFood Media LLC