This post was originally published on this site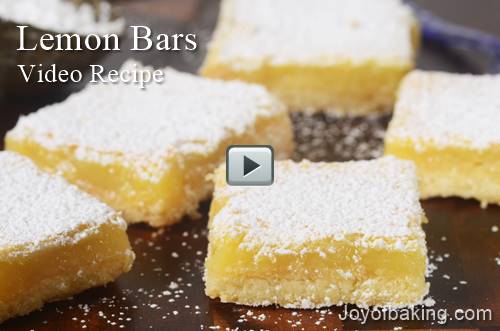 Lemon Bars are a favorite in my home. Everyone seems to enjoy the combination of a buttery crisp shortbread topped with a tangy lemon filling. The lemon filling actually separates into two layers as it bakes, so you have a thin cake-like crust with a soft and creamy lemon filling underneath. Lemon Bars, also called Lemon Squares or Lemon Slices, are instantly recognizable because of their liberal coating of snowy white powdered sugar. They are wonderfully addictive.
In order for these Lemon Bars to have a nice citrus flavor, you need to use fresh lemons, so try not to use the imitation lemon juice that comes in a bottle. When choosing lemons make sure to look for ones that are fragrant with bright yellow skins. They should be firm, plump, and heavy for their size. Avoid lemons that have blemishes, soft spots, green spots, or are hard and wrinkled. Lemons consist of a yellow outer rind (skin) that contains the fruit's oils and perfumes. This outer rind, of varying thickness and graininess, can have either a bumpy or smooth glossy texture that contains most of the lemon's wonderful tangy flavor. Before removing the outer rind (zest) make sure you wash the lemons thoroughly (soap and water is best). The rind (zest) can be removed using a knife, vegetable peeler, grater or microplane zester. Inside the outer rind is a white membrane (pith) that is very bitter and should not be used. Small vessels called 'pulp vesicles' make up the inside of the lemon and contain the pleasantly acidic lemon juice and seeds. Squeezing the lemon by hand or with a lemon squeezer or reamer releases this clear tart juice.
Click here for the video and recipe.
More Recipes at Joyofbaking.com
Article and Demonstration by Stephanie Jaworski
Photo and Videography by Rick Jaworski
© 2019 iFood Media LLC