This post was originally published on this site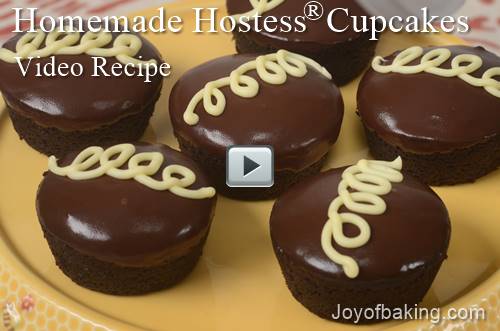 This is our 500th video recipe since we started shooting videos in 2011. We want to thank you for your support and hope you stay tuned for many more to come!
A Homemade Hostess® Cupcake has four components. It starts with a Devil's Food Cupcake, a rich and moist chocolate cake that has a wonderfully soft crumb. Once made, the cupcakes are filled with a light and fluffy vanilla cream. Then each cupcake is dipped in a smooth and velvety Chocolate Ganache, which is a delicious mixture of dark chocolate and cream. The finishing touch, which makes a Hostess® Cupcake instantly recognizable, is the loop-de-loops (or squiggles) of white chocolate.
Unsweetened cocoa powder is what gives these cupcakes their deep chocolate "fudgy" flavor. You can use natural unsweetened cocoa powder or Dutch-processed (alkalized). Just remember that both the type and brand of unsweetened cocoa powder will affect both the taste and color of your cupcake. Before adding the cocoa powder to the cake batter, we first dissolve it in either very hot coffee or boiling water and this is done to bring out its full flavor. This chocolate batter contains both butter and oil. The benefit of adding oil, along with the butter, is that it keeps the cupcakes soft, even when refrigerated. As far as the type of oil to use, good choices are vegetable, canola, corn, safflower, or a light olive oil.
This Vanilla Cream Filling has a nice vanilla flavor with a wonderfully soft and creamy texture (like marshmallow cream). This texture comes from the addition of vegetable shortening and light corn syrup (can use golden syrup, agave, or brown rice syrup, or liquid glucose). However, if you don't want to use vegetable shortening you can substitute with an equal amount of butter.
Click here for the video and recipe.
More Recipes at Joyofbaking.com
Article and Demonstration by Stephanie Jaworski
Photo and Videography by Rick Jaworski
© 2018 iFood Media LLC