This post was originally published on this site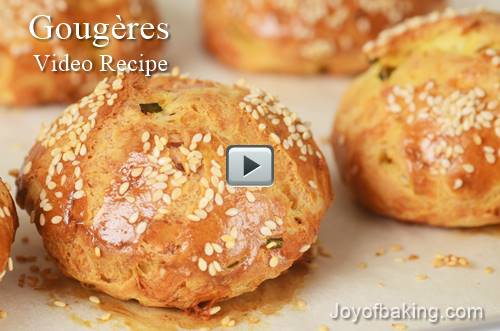 Gougères are crisp rounds of choux pastry flavored with cheese. There are many variations, from the type of cheese used, to adding extra ingredients such as finely chopped chives (or green onions) and cooked bacon. They make a delicious hors d'oeuvre but I also like to serve them with soups and stews. Some say the choux pastry shells look like small cabbages which is probably where the name "choux" comes from, as "choux" in French means "cabbage". Catherine de Medici's (an Italian who married France's Henry II) pastry chef is credited with inventing choux pastry in the 1540s and it has been the springboard for many pastries. Besides Gougères, choux pastry is used to make Cream Puffs (choux pastry filled with whipped cream or pastry cream), Eclairs (long finger-shaped choux pastry filled with cream and glazed with chocolate), and Profiteroles (small puffs of choux pastry split and filled with whipped cream or ice cream and topped with chocolate sauce).
Choux pastry is an unusual pastry in that it is first cooked on the stove and then baked in the oven. It is made by adding flour to a boiled mixture of butter and water/milk (like a roux). After removing from the heat, the dough is cooled to lukewarm, and then you add enough beaten egg to get a smooth thick paste-like dough. Lastly, grated cheese (Gruyere, Parmesan, Cheddar, or Asiago are excellent choices), finely chopped chives (or green onions), and, if you like, bits of bacon are added. The mounds of choux can be either piped or spooned onto a parchment-lined or lightly oiled baking sheet. The pastry is first baked at a high temperature and then the oven temperature is lowered. The high temperature is needed so the dough will rise quickly (leaving a hollow center) and to set the structure of the shells. The temperature is then reduced to allow the outsides of the shells to become golden brown, firm and crisp, while at the same time allowing the insides of the shells to dry out. You might want to cut one of the shells in half at the end of baking to make sure they have dried out, because if the inside dough is still very wet (a little wet dough is fine), the choux pastry will deflate upon cooling.
Click here for the video and recipe.
More Recipes at Joyofbaking.com
Article and Demonstration by Stephanie Jaworski
Photo and Videography by Rick Jaworski
© 2018 iFood Media LLC