This post was originally published on this site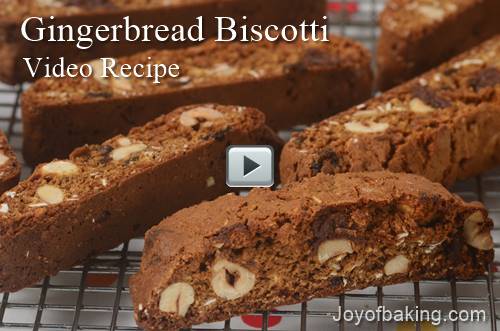 A biscotti with my morning cup of coffee is a nice way to start the day. I particularly enjoy these Gingerbread Biscotti, as they are not overly sweet, have chunks of hazelnuts, lots of raisins and chocolate chips, lovely flecks of rolled oats, just a hint of molasses, and are warmly spiced with ground cinnamon, ginger, and cloves.
As with most biscotti, this Gingerbread Biscotti is a great recipe to play around with. For one thing, there many types of nuts you could use in this recipe. Although hazelnuts are my favorite, you could also use pecans, walnuts, or even almonds. Now, make sure to leave the nuts in fairly large chunks as you really want to see the nuts in the biscotti. For the raisins you could use either dark or golden. I also added some chocolate chips as they pair especially well with the hazelnuts. You could also add some dried cranberries or cherries, dried apricots, and/or dried figs.
The second baking of the biscotti determines its texture. If you like your biscotti quite crisp and crunchy, which is perfect for dunking in your coffee, bake the biscotti the full eight minutes per side. But if you want them slightly softer, reduce the baking time to between 4-5 minutes per side. Gingerbread Biscotti will keep for several weeks in an airtight container.
This recipe is based on a recipe from Karen DeMasco and Mindy Fox's excellent baking book "The Craft of Baking".
Click here for the video and recipe.
More Recipes at Joyofbaking.com
Article and Demonstration by Stephanie Jaworski
Photo and Videography by Rick Jaworski
© 2018 iFood Media LLC