This post was originally published on this site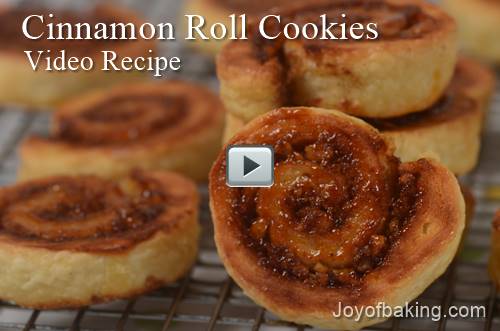 When my Mom made pies, she usually had some leftover scraps of pastry. Not one to waste, she would gather up the scraps and roll them into a large round. She would then lightly brush the pastry with water and sprinkle it with cinnamon sugar and walnuts. Next, she would roll the pastry into a log shape, cut slits in the log, and bake it until golden brown. I always found myself enjoying this pastry more than the pie that she originally set out to make. It was with this pastry in mind that I decided to make these Cinnamon Roll Cookies.
These cookies are very similar to a cookie called Rugelach, only they are in a spiral shape instead of the more common crescent shape. They are made with a Cream Cheese Pastry. This pastry has a slightly tangy flavor with a texture that is so wonderfully tender and flaky. It is also quite elastic which makes it easy to roll out.
Once the pastry is rolled into a rectangle, the next step is the filling. While my Mom always brushed her pastry with water, I decided to use apricot preserves (often used when making Rugelach). The preserves act as a glue so the cinnamon sugar adheres to the pastry, but it also adds flavor. For the nuts, I like to use walnuts, but pecans would also do very nicely. And another idea is to substitute the nuts with raisins or currants. Once that is done, you simply roll the pastry into a log, and chill. Now you can cover and store the log in the refrigerator a day or two before slicing and baking, or you can freeze the whole log for a couple of months. Before baking I like to brush each cookie with a little beaten egg (you could use milk or cream) and then sprinkle the tops of the cookies with a little more cinnamon sugar.
Click here for the video and recipe.
More Recipes at Joyofbaking.com
Article and Demonstration by Stephanie Jaworski
Photo and Videography by Rick Jaworski
© 2018 iFood Media LLC