This post was originally published on this site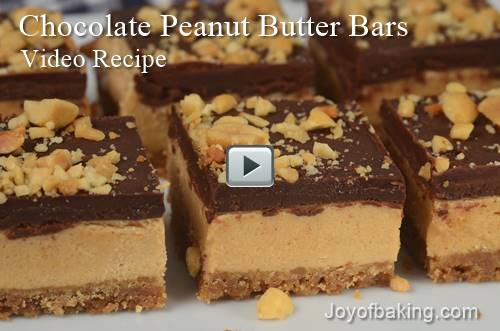 Help us get to 1 million subscribers on YouTube! Today we are at 971,000! If you aren't a subscriber already be sure to subscribe here:
Sometimes when I visit my local bakery, I bypass all the fancy desserts, and go straight for the Chocolate Peanut Butter Bars. I just love the combination of dark chocolate and peanut butter in this three layer bar. The top layer is a smooth and shiny Chocolate Ganache covered with crunchy bits of peanuts. Next comes a no bake Peanut Butter Filling that's deliciously soft and fluffy with a creamy smooth texture. The bottom layer is a sweet and grainy Graham Cracker Crust that contrasts so nicely with the creaminess of the top two layers. My favorite way to eat these bars is cold from the fridge but they are also good at room temperature .
A Graham Cracker Crust is one of the easiest crusts to make. While you can buy Graham Cracker Crumbs, I prefer starting with whole Graham Crackers (homemade or store bought). Then either place the Graham Crackers in your food processor and process until finely ground, or put the Graham Crackers in a freezer bag and use a rolling pin to crush until finely ground. Next, just add the sugar and melted butter and mix until moistened. Once the mixture is placed in your baking pan, there are two ways to set the crust. One, is to chill in the refrigerator, but my preference is to bake it until golden brown and firm. Cool completely before pouring on the filling.
For the peanut butter filling the ingredients are just beaten together until light and fluffy. Peanut butter is a smooth paste made from roasted peanuts. The peanuts are ground, and then salt, a sweetener, and sometimes a stabilizer (to keep the oil from separating) are added. There are two types of peanut butter, and the ones that are labeled "Old-Fashioned" or "Natural" do not contain a stabilizer which means the peanut butter will separate. For this recipe I find it best to use a peanut butter that contains a stabilizer.
Lastly, if you want to make a larger batch of these Bars, simply double the recipe and use a 9 x 13 inch (23 x 33 cm) pan.
Click here for the video and recipe.
More Recipes at Joyofbaking.com
Article and Demonstration by Stephanie Jaworski
Photo and Videography by Rick Jaworski
© 2018 iFood Media LLC