This post was originally published on this site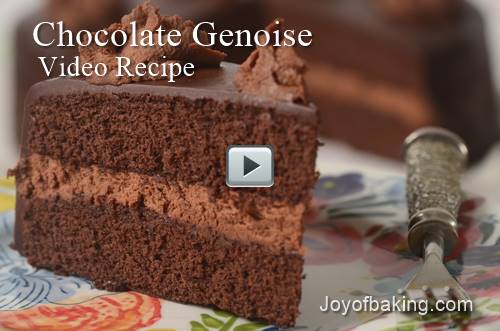 A Genoise Cake is named after its place of origin, Genoa Italy. It belongs to the family of light and airy sponge cakes. For a Chocolate Genoise, unsweetened cocoa powder is added to the batter which adds a mild chocolate flavor and turns the cake a lovely chocolate brown color. While this cake can be eaten plain, it makes a really good layer cake. For this recipe, we take two layers of Chocolate Genoise and first soak them with an orange flavored sugar syrup. Next, the two Genoise layers are sandwiched together with a thin layer of raspberry jam and a rich and creamy Chocolate Mousse. I like to finish this cake with a shiny Chocolate Ganache and pretty swirls of the Chocolate Mousse.
While the technique for making a Genoise batter is similar to that of any sponge cake, it does differ in that the eggs are not separated. It is, however, like other sponge cakes in that it is leavened solely by the air beaten into the egg and sugar mixture. To make a light and airy Genoise we first warm the eggs and sugar over a water bath, which melts the sugar so that the eggs will reach their full volume when beaten. The eggs and sugar are beaten until thick, and you will notice that the batter will become lighter and paler in color as it thickens (starts out yellow and ends up cream colored). The other difference between a regular sponge cake and a Genoise is that we add warm melted butter (can use clarified butter) which makes the Genoise light and tender with a nice flavor. The melted butter needs to be warm, however, so it does not solidify once it is added to the cake batter, causing streaks, or worse yet, causing the batter to deflate.
Click here for the video and recipe.
More Recipes at Joyofbaking.com
Article and Demonstration by Stephanie Jaworski
Photo and Videography by Rick Jaworski
© 2018 iFood Media LLC