This post was originally published on this site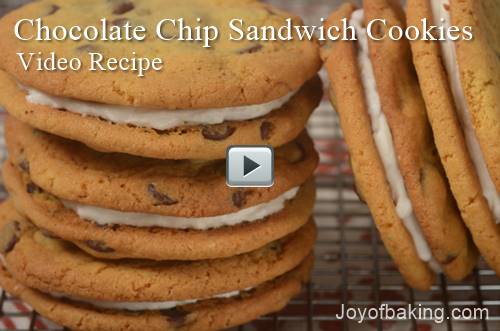 There is a grocery store in my neighborhood that sells their bakery cookies in bulk. They rotate their selection so it's always a surprise to see what they're offering on any given day. One of my favorites is their Chocolate Chip Sandwich Cookies. I like them so much that I thought I should make them at home. I started with my favorite Chocolate Chip Cookie recipe which makes a cookie that is sweet and buttery with wonderfully crisp edges. For the filling I made the Vanilla Cream Filling that I use to fill my Whoopie Pies. I was so happy with the results that I might try making some of the other cookies I normally buy.
When making sandwich cookies try to make the cookies all the same size. Because if the cookies are different sizes they don't fit together perfectly, which means they won't look very nice, plus the filling may leak out.
I really like the vanilla flavor and the wonderfully soft and creamy texture of the Vanilla Cream Filling. It reminds me of marshmallow cream. The creamy texture comes from the addition of vegetable shortening and light corn syrup (can substitute with golden syrup, agave, or brown rice syrup, or liquid glucose). Vegetable shortening is a solid white fat that remains solid even at room temperature. Since it doesn't have any flavor I like to use it in combination with butter. But if you don't want to use vegetable shortening, you can replace it with an equal amount of butter.
Click here for the video and recipe.
More Recipes at Joyofbaking.com
Article and Demonstration by Stephanie Jaworski
Photo and Videography by Rick Jaworski
© 2018 iFood Media LLC