This post was originally published on this site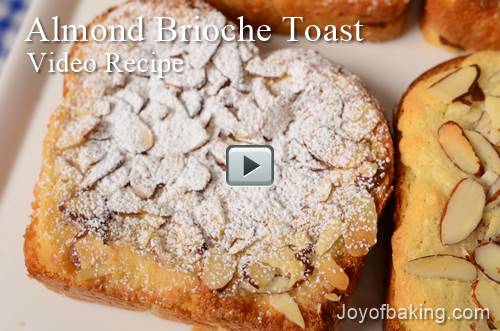 This Almond Brioche Toast or Brioche with Almonds is a delicious breakfast pastry. Bakeries often call it Bostock. It is very similar to an Almond Croissant, only instead of using a croissant, this pastry is made with a thick slice of Brioche. Just think, a slice of Brioche, stale enough that it can absorb a soaking of a rum flavored sugar syrup. Then, a rich almond cream (frangipane) is spread on one side of the Brioche. Next, to add additional almond flavor and a nice crunch, sliced almonds are sprinkled on top. The Bostock is then baked until the almond cream is set and starts to brown. I like to dust the pastry with powdered sugar just before serving. Sometimes I like to eat it while it's still warm and soft. Other times I let it cool to room temperature so the edges of the Brioche have time to become wonderfully firm and crunchy.
Almond Brioche Toast is a welcome brunch dish. Not only because they taste fabulous but also because you can assemble them the day before and just place them in the refrigerator to chill overnight. Then the next morning all you need to do is pop them into the oven until brown and set.
You can use either homemade or store bought Brioche. Actually you could use any good quality bread. And as I've said above, you want the Brioche to be a little stale (at least a day old), so it will soak up the sugar syrup. This syrup is so easy to make (just heat the ingredients to a boil) and it can be made ahead and covered and stored in the refrigerator for a few weeks. Also, if you don't want to add the rum, you can flavor the sugar syrup with a little vanilla extract, almond extract, or even add some orange zest. Once the Brioche is soaked with the sugar syrup you can spread a thin layer of jam (I normally use raspberry jam) before adding the almond cream. The almond cream, also known as frangipane, is a rich cream made from ground almonds. You can buy ground almonds or you can take blanched almonds and process them in your food processor until finely ground. The almond cream can be made a few days ahead. Just cover and store it in the refrigerator. It can also be frozen.
Click here for the video and recipe.
More Recipes at Joyofbaking.com
Article and Demonstration by Stephanie Jaworski
Photo and Videography by Rick Jaworski
© 2018 iFood Media LLC