This post was originally published on this site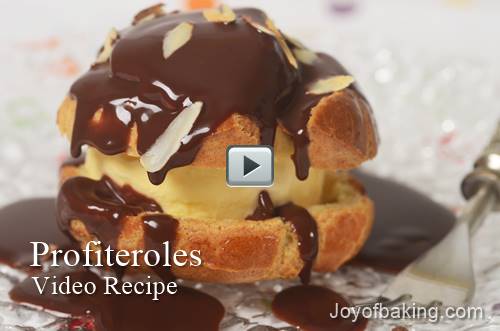 We have reached 1 million subscribers on YouTube! We want to thank everyone for the support. We love you all. If you aren't a subscriber already be sure to subscribe here. If you haven't seen our Celebration Video you can view it here.
There are so many desserts that you can make with choux pastry. One of my favorites is these Profiteroles (pronounced pruh-FIHT-uh-rohl). For this Profiterole recipe we start with crisp, hollow rounds of choux pastry that are split in half and filled with vanilla ice cream. Then you pour a warm chocolate sauce over the top. The combination of pastry, a warm chocolate sauce, and icy cold vanilla ice cream is wonderful. The word 'Profiteroles' is believed to be derived from 'profit', which means 'small gift' which seems like a fitting name for such a delicious dessert.
No matter if you are making these Profiteroles or Cream Puffs, they both start with a baked puffed shell of choux pastry. Choux pastry is an unusual pastry in that it is first cooked and then baked. It starts with a mixture of butter and milk/water (like a roux). Flour is added and then this mixture is cooked until it forms a smooth ball of dough. After cooling the dough to lukewarm, eggs are slowly added and the dough is beaten until it becomes a smooth thick sticky paste. This paste can be piped or spooned onto a baking sheet, and then the choux is baked. It is baked, first at a high temperature, and then at a slightly lower temperature. The high temperature is needed so the dough will rise quickly (leaving a hollow center) and to set the structure of the shells. The temperature is then reduced to allow the outsides of the shells to become firm, while at the same time allowing the insides of the pastry to dry out.
Once the pastry shells have cooled, they are split them in half and, for this recipe, we are filling them with vanilla ice cream (homemade or store bought). Fill with enough ice cream so that when you place the top half of the choux pastry on it, you can see the ice cream peeking out the sides. The finishing touch is a drizzling of warm chocolate sauce. I'm using Chocolate Ganache, which is a mixture of semi sweet or bittersweet chocolate and heavy cream. It is simple to make and I love its rich chocolately flavor.
Click here for the video and recipe.
More Recipes at Joyofbaking.com
Article and Demonstration by Stephanie Jaworski
Photo and Videography by Rick Jaworski
© 2018 iFood Media LLC