This post was originally published on this site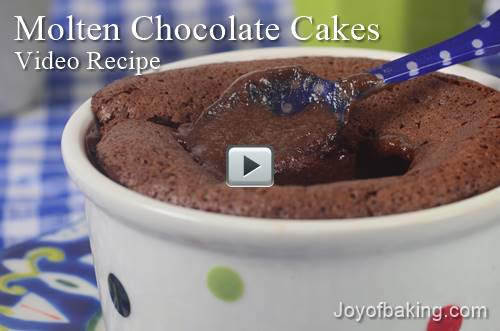 It is not until your spoon breaks through the outer crust of this Molten Chocolate Cake, that you find its soft and creamy center. This dessert has been described as soufflé-like, cake-like, brownie-like, mousse-like, and pudding-like, and that is because it has all of these characteristics. Molten Chocolate Cakes, also known as Chocolate Lava Cakes, are wonderfully rich and chocolately. I love how the cakes rise as they bake (like a soufflé), but once they are removed from the oven they will slowly deflate.
New York Chef Jean-Georges Vongerichten is credited with inventing this cake back in 1987. This Molten Cake recipe is different than most recipes in that it does not contain flour. This gives you a cake with an outside crust that is set, yet the center is wonderfully soft and creamy. You can adjust how soft the center of the cake is, by how long it is baked. The longer it's baked, the firmer the center will be. As its name implies, Molten Chocolate Cakes are served hot from the oven. You will notice that as the cakes cool, they will deflate, and the centers of the cakes will thicken. Delicious plain, but I love it with a scoop of icy cold vanilla ice cream placed in the center of the hot cake. The contrast of hot and cold is wonderful. You can also serve them with a dollop of softly whipped cream or clotted cream. Leftovers can be refrigerated and enjoy this cake cold, at room temperature, or reheated in the microwave.
When making these cakes you can use individual ramekins, molds, custard cups, or even muffin tins. The cakes can be served in their molds, but if you want to remove them from their cups before serving, it is important to generously butter each mold so the baked cakes release easily onto your serving plate. You may want to first run a sharp knife around each cake before unmolding. Also, the batter can be made several hours in advance of baking. Just pour the batter into the individual molds, cover each mold with plastic wrap, and refrigerate until you are ready to bake them.
Click here for the video and recipe.
More Recipes at Joyofbaking.com
Article and Demonstration by Stephanie Jaworski
Photo and Videography by Rick Jaworski
© 2019 iFood Media LLC