This post was originally published on this site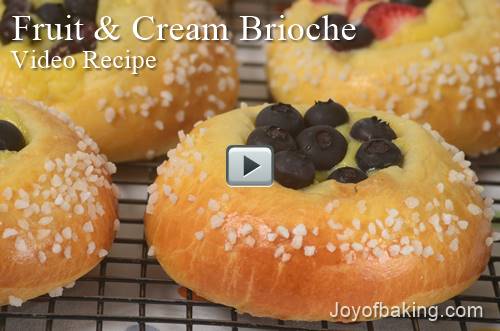 We have reached 1 million subscribers on YouTube! We want to thank everyone for the support. We love you all. If you aren't a subscriber already be sure to subscribe here. If you haven't seen our Celebration Video you can view it here.
Brioche is an enriched yeast bread, which means it is made with lots of butter and eggs. This gives it a buttery flavor with a wonderfully light and tender crumb. You can use Brioche dough to make so many different breads, both sweet and savory. Today we are going to make Fruit and Cream Brioche Buns. This is done by topping rounds of proofed brioche with a dollop of pastry cream and some fresh fruit, in this case berries. Before baking I like to brush the Brioche with an egg wash as this gives the Brioche a nice shine plus it helps with browning. And lets not forget a sprinkling of pearl sugar that not only looks good, but adds crunchy bits of sweetness.
A few notes on technique and ingredients. This dough is kneaded for a long time (20 to 25 minutes) which produces a strong dough that cleans your mixing bowl and is silky smooth (but not sticky). If you're new to bread making, I would watch the video as I show you an easy way (the 'window' test) to determine if your dough has been kneaded to the correct consistency. After the first fermentation (proofing), I like to refrigerate the dough overnight. This improves the flavor of the Brioche and also makes the dough much easier to work with.
As far as ingredients go, for the yeast, I like to use SAF Gold instant yeast which is used in breads that are high in fat and/or sugar. This type of yeast gives a good rise and it doesn't need to be activated in a liquid before making the dough. However, you can use active dry yeast instead of instant yeast. But you need to increase the amount of yeast by about 20%. For the salt, I like to use kosher salt. For the butter, I like to use unsalted butter.
Click here for the video and recipe.
More Recipes at Joyofbaking.com
Article and Demonstration by Stephanie Jaworski
Photo and Videography by Rick Jaworski
© 2018 iFood Media LLC