This post was originally published on this site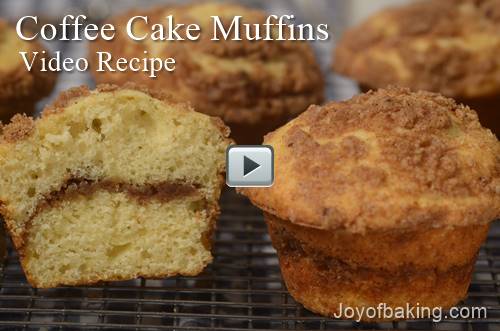 This is a recipe for a Streusel Coffee Cake only in muffin form. It has a wonderfully rich and buttery flavor and a soft and moist texture. The crispy streusel combines flour with dark brown sugar, ground cinnamon, and butter. I like how the streusel mixture sits both on top of the muffins plus runs through their centers.
Although this muffin is called a "Coffee" Cake Muffin, it does not contain coffee. In North America the name refers to how the cake is normally served, that is, with a cup of coffee. Its rich flavor and texture comes from adding sour cream (full or reduced fat) to the batter. You can replace the sour cream with an equal amount of plain yogurt.
Coffee Cakes are instantly recognizable by their crumb topping. I love how the crumb mixture turns slightly crunchy when baked, and its grainy texture contrasts nicely with the soft and moist butter cake. In the Streusel Topping I have used dark brown sugar although you could use light brown sugar. Brown sugar is made by adding molasses back into refined white sugar. The color will depend on the amount of molasses added during processing of the sugar. The darker the color the stronger the taste.
Click here for the video and recipe.
More Recipes at Joyofbaking.com
Article and Demonstration by Stephanie Jaworski
Photo and Videography by Rick Jaworski
© 2018 iFood Media LLC