This post was originally published on this site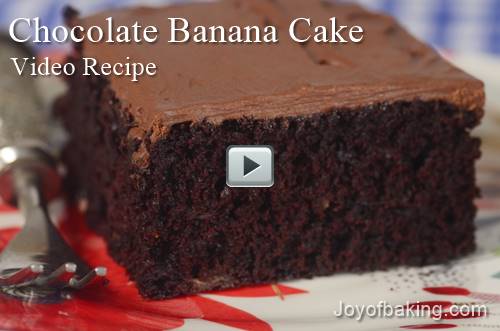 We have reached 1 million subscribers on YouTube! We want to thank everyone for the support. We love you all. If you aren't a subscriber already be sure to subscribe here. If you haven't seen our One Million Award Unboxing Video you can view it here.
Ripe bananas sitting on the counter means it is time to bake. Often times I make banana bread which is perfect in the mornings with yogurt and fresh fruit. But when I want a delicious and quick weekday dessert, this Chocolate Banana Cake is what I turn to. This recipe is one I adapted from Canadian Jane Rodmell's Best Summer Weekends Cookbook. It combines the sweetness of ripe mashed bananas with cocoa powder. Wonderful plain, but even better when frosted with a smooth and creamy Chocolate Ganache. This would also be the perfect snacking cake for family gatherings as it feeds up to 16 people.
Chocolate Banana Cake is a snap to put together. Fifteen minutes is about all you need. It is more like a quick bread in that you do not use a mixer, just two bowls. One for the dry ingredients and one for the wet ingredients. The two are then mixed together and you are done. The fat is in liquid form, which gives the cake a wonderful moist texture and tender crumb that keeps the cake soft even when refrigerated. As far as the type of oil to use in this cake, you can use canola, safflower, vegetable, or corn.
As I said above, the frosting is a Chocolate Ganache, which is a French term referring to a rich and smooth mixture of chopped semi sweet or bittersweet chocolate and heavy cream. While it is often poured over a cake or torte for a smooth and shiny glaze, this time it is whipped so it becomes a thick and spreadable frosting.
Click here for the video and recipe.
More Recipes at Joyofbaking.com
Article and Demonstration by Stephanie Jaworski
Photo and Videography by Rick Jaworski
© 2018 iFood Media LLC