This post was originally published on this site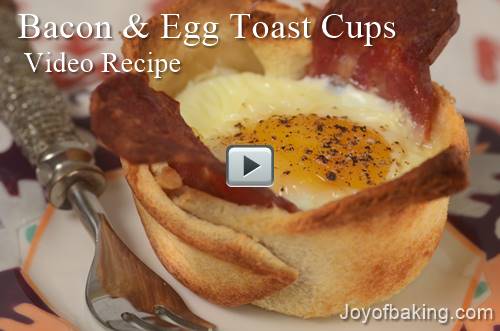 I don't know about you, but I'm always on the lookout for new ideas for Breakfast/Brunch. One thing I find is that everyone seems to like having some form of bacon, eggs, and toast. So what could be more perfect than these Bacon and Egg Toast Cups. In a single muffin cup you have a brown and crispy slice of bread, that is filled with a slice of bacon, some cheese, a sprinkling of green onion (chives), and a perfectly cooked sunny side up egg. While you can serve them on a plate to be eaten with a knife and fork, they can also be eaten as finger food.
Recipes abound on the Net for this type of Breakfast Muffin. While many use a regular sized muffin pan for the toast cups, if you're using large eggs (50 grams), I find a jumbo muffin pan is best. Otherwise you may find the eggs spill over the tops of the muffin cups. However, to remedy this problem if you don't have a jumbo muffin pan, is to use small eggs instead of large. Also, while I have used just one slice of bacon in each muffin cup, two slices can be used. And if you're vegetarian you can omit the bacon completely. Instead saute some mushrooms and/or other vegetables and place about one to two tablespoons in the bottom of each muffin cup. For the grated cheese, good choices are Gruyere, Cheddar, Colby, Monterey Jack, Swiss Cheese, Mexican Blend, goat cheese, and Parmesan.
Click here for the video and recipe.
More Recipes at Joyofbaking.com
Article and Demonstration by Stephanie Jaworski
Photo and Videography by Rick Jaworski
© 2018 iFood Media LLC