This post was originally published on this site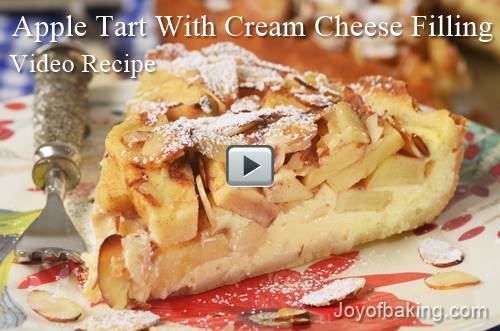 We have reached 1 million subscribers on YouTube! We want to thank everyone for the support. We love you all. If you aren't a subscriber already be sure to subscribe here. If you haven't seen our One Million Award Unboxing Video you can view it here.
This Apple Tart is a delicious combination of a buttery crisp shortbread crust, a soft and creamy cheesecake-like filling, slices of cinnamon-sugared apples, and a scattering of sliced almonds. Excellent warm from the oven, at room temperature, or even cold.
Shortbread makes a perfect base for this Apple Tart. I love its buttery flavor and crisp texture and it is so easy to make. The ingredients are simply placed in your food processor and pulsed until the dough starts to come together and form clumps. Then all you do is press the dough onto the bottom and about one inch (2.5 cm) up the sides of a buttered spring form pan. Next, the cream cheese filling. Again, the filling is made in the food processor and its flavor will remind you of cheesecake, albeit a little softer in texture. Once it is poured over the uncooked shortbread crust, slices of cinnamon-sugared apples are mounded on top. The finishing touch is a scattering of sliced almonds. The tart is first baked in a very hot oven for 10 minutes and then the temperature is lowered, and the tart is baked, until the crust has nicely browned, the filling is set, and the apples are tender when pierced with a sharp knife.
For the apples, use a firm textured apple that will keep its shape when baked. Some choices are Granny Smith, Gala, Honey Crisp, Golden Delicious, Jonagold, and Braeburn. However, if you are lucky enough to live close to an apple orchard or farmer's market, be sure to try using other types of apples. And I often mix two or three varieties of apples which gives a wonderfully complex apple flavor to this dessert.
Click here for the video and recipe.
More Recipes at Joyofbaking.com
Article and Demonstration by Stephanie Jaworski
Photo and Videography by Rick Jaworski
© 2018 iFood Media LLC